Pet Adopt


"How might we promote the adoption of overlooked animals at local shelters while educating future dog owners?"


After a visit to the local Humane Animal Rescue, my team set out to create a mock responsive web design for the organization. Our desktop and mobile application design educates potential adopters, promotes the adoption of overlooked dogs, and suggests suitable matches based on a personal assessment.

Team
1 product manager & 1 other designer

Role
I was a user researcher and designer who did: Wireframing, Prototyping, User Testing, Visual Design, Interaction Design

Tools
Figma
---
Problem ︎

Many people want to adopt a dog! But, what's stopping from them from visiting their local animal shelter and finding their perfect match? We found that many potential adopters lacked an understanding of the adoption process and how to care for their new fluffy friend.

---
User Research ︎

None of us actually adopted a dog before, so we explored existing pet adoption websites and took a trip to the local Humane Animal Rescue in Pittsburgh. We realized that although there was an overwhelming amount of dogs who needed forever homes, there was a high demand from local people who wanted to bring home a new pet.

We then created personas for new and experienced adopters, shelter managers, and shelter volunteers to reference in our ideation.

---
Ideation ︎

We revisited the idea of how to handle an overwhelming amount of dogs and people, looking to be matched up with each other. How could we match up a pair in an incredibly simple way? We referenced dating apps like Tinder and Bumble for our ideation, looking at how they highlight the unique qualities of each user while still offering an infinite amount of choices. We also posited that we can call attention to underappreciated dogs, like older dogs and pitbulls.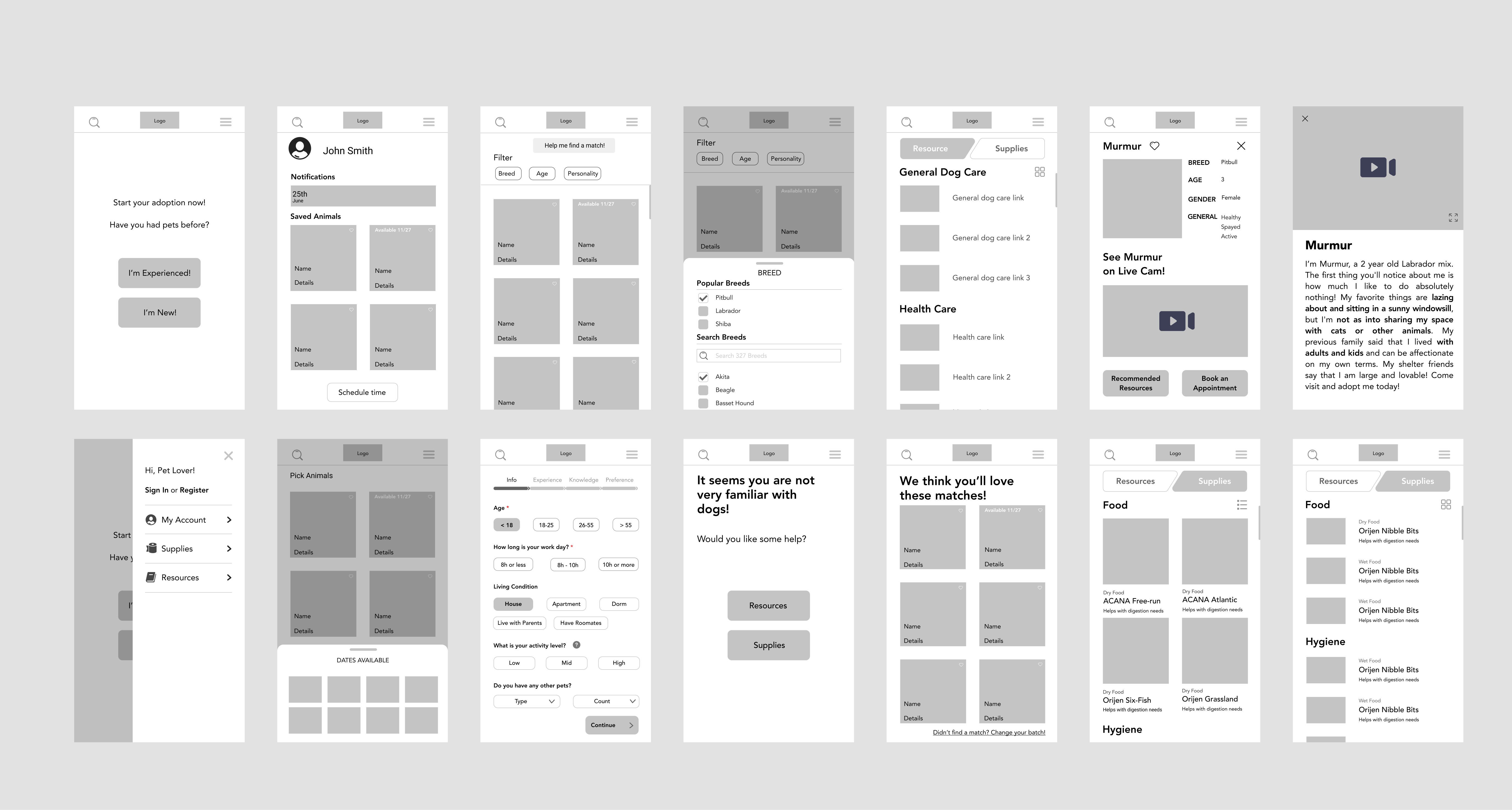 ---
Solution ︎
Our responsive web design for Humane Animal Rescue enables potential adopters to match with the right dogs and learn about pet care and supplies, before taking a visit to the shelter. Try out our Figma prototype for
desktop
and
mobile!

---
---
Style Guide

We focused on a refreshing and warm color palette similar to the vibrant colors used in dating apps to emphasize warmth and connection.


---
Reflection ︎

Although our responsive website design won't be programmed and deployed, this project taught me a lot about designing for responsive websites and phones through a topic that I am already passionate about — pet adoption. Here is one insight:


1. Reference what has worked before


By drawing similarities between the unfamiliar problem space of pet adoption and the more familiar space of dating apps, we were able to draw inspiration from existing apps such as Tinder and Bumble, but for dogs and adopters!