Internet Cafe


How might we replicate social spontaneity and mitigate "zoom fatigue" in the remote work and play environment?


Internet Cafe is an online coffee shop simulator, a digital platform where people can work, collaborate, and spontaneously socialize virtually with friends and coworkers.

Team
1 product manager, 2 researchers, & 1 other designer

My Role
I was a user researcher, designer, and animator who did: User Research, User Testing, Prototyping, Visual Design, Illustration & Animation

Tools
Figma, Adobe Suite, Procreate


---
Problem ︎

There is a rising group of students feeling isolated and lonely from the COVID-19 pandemic. Especially during quarantine, they are struggling to replicate the spontaneous social interactions that are now missing from their daily lives — one example being casually studying with friends.


---
User Research ︎


In our literature review of mental health and social engagement during the COVID-19 pandemic, we looked at "zoom fatigue" and dual-process theories. Constant online engagement, jumping from one scheduled meeting to the next — not just for work but even for online socializing — caused friction and mental exhaustion for students. Students simply couldn't be reflexive, unconscious, and spontaneous with their online interactions!





In order to see if our theories held true with real-life students, we led a focus group with 10 participants. We had a conversation on our recent mental health and drew comparisons between our Zoom classes, friends, relationships, extracurriculars, and physical health using metaphors.

We then did in-depth interviews with 3 of these students and learned that they missed the spontaneity of socialization with friends, acquaintances, and classmates.


We also looked at examples of successful social bonding online, incorporating a few elements into our own ideas. Previous research found that digital face-to-face games create a social environment conducive to bonding because of the ability to see faces and hear sounds and laughs (instead of just knowing someone else is playing a game from another corner of the internet). Our prototype had to connect people to each other as closely as possible using their senses.
---
Ideation ︎

When ideating, we considered the concept of social facilitation. Sometimes, the presence of others can cause us to feel more alert and divide our attention because of a social expectation to respond to them. Other times, the presence of others can be energizing and motivating, making us more productive and better at the tasks we are doing. For our solution, we introduced different "states" or modes where people can adjust their environment accordingly based on who they are in a room with.

We also considered the concept of third places. Third places are neutral spaces distinct from our home or work — providing a foothold for maintaining and developing social communities and relationships. A third place needs to be neutral, have regulars, and have a low profile. We wanted to design for an accessible and low-maintenance digital solution, a casual "third place" environment, to bridge the gap between home and work. Students can maintain and develop social communities and relationships with transitory visitors who come and go, allowing them to connect with and befriend others in a low-pressure environment.

---
Solution ︎

Our design intervention, "Internet Cafe" is an online coffee shop simulator, a digital platform where people can work, collaborate, and socialize virtually with friends and coworkers.
Read our
accompanying Medium article
!
1. Create your own room or explore public rooms

Create a private room for studying or social purposes, or check out already available public rooms.
2. Videochat with others in the room and share playlists.


Talk with friends in the room or study undisturbed. You can also connect your Spotify account to stream saved songs and playlists for your friends, or choose to listen on friend's streams.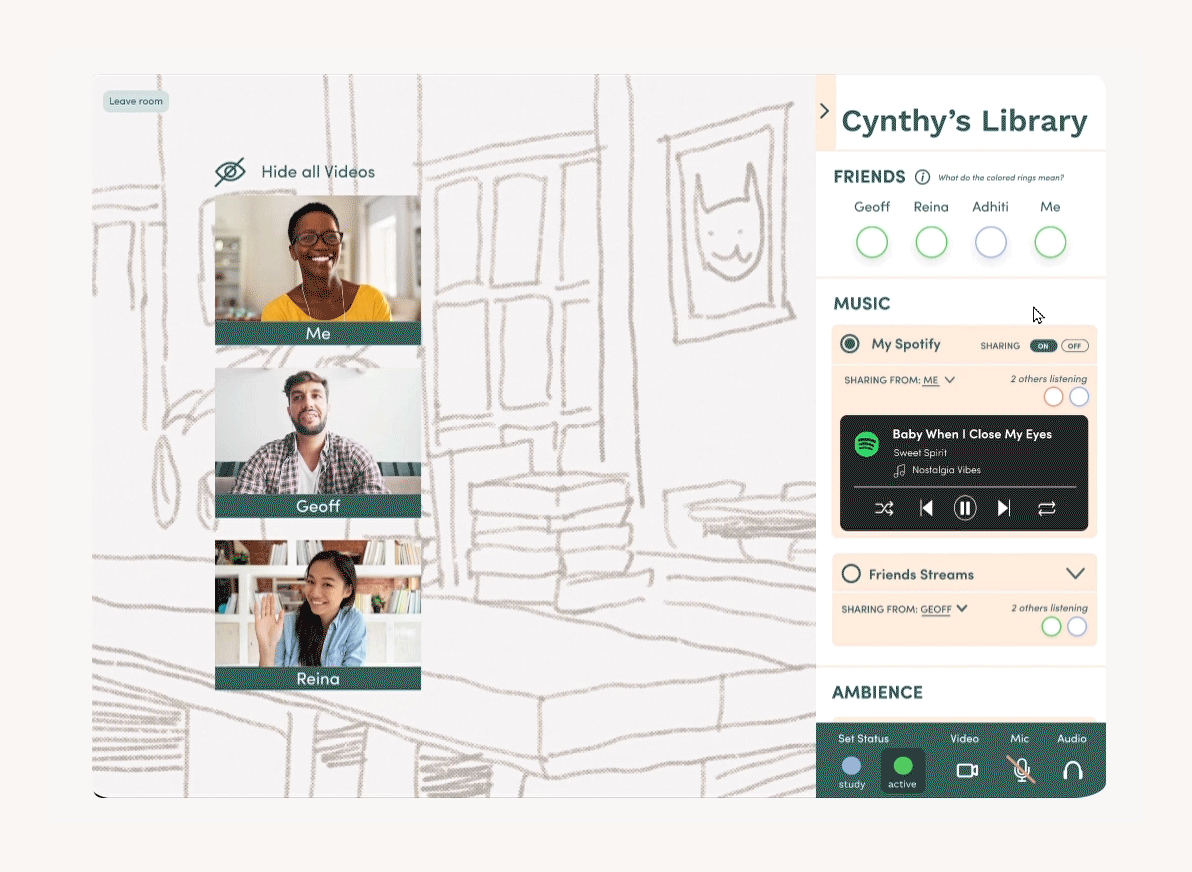 3. Change your wallpaper


In order to liven things up and personalize your room, change your background with our selection of fun and relaxing animated wallpapers.
4. Order from a local coffeehouse.

A virtual coffeeshop won't be complete without real coffee! Look at menus from nearby local coffeeshops and order snacks and coffee for yourself and your friends.
---
Style Guide ︎

As the visual designer for our group, I envisioned an airy and comfortable coffee shop atmosphere, with relaxing "coffee" palette colors.
---
Animated Wallpapers
Originally, each room defaulted to a random stock image of a coffeeshop. However, I always imagined fun and relaxing animated screensavers that would make the user feel more at home. A year later, I revisited this project and created my own animated backgrounds.
Note: A special shoutout to
Manon Louart's
animation classes for teaching me how to animate my type and illustrations!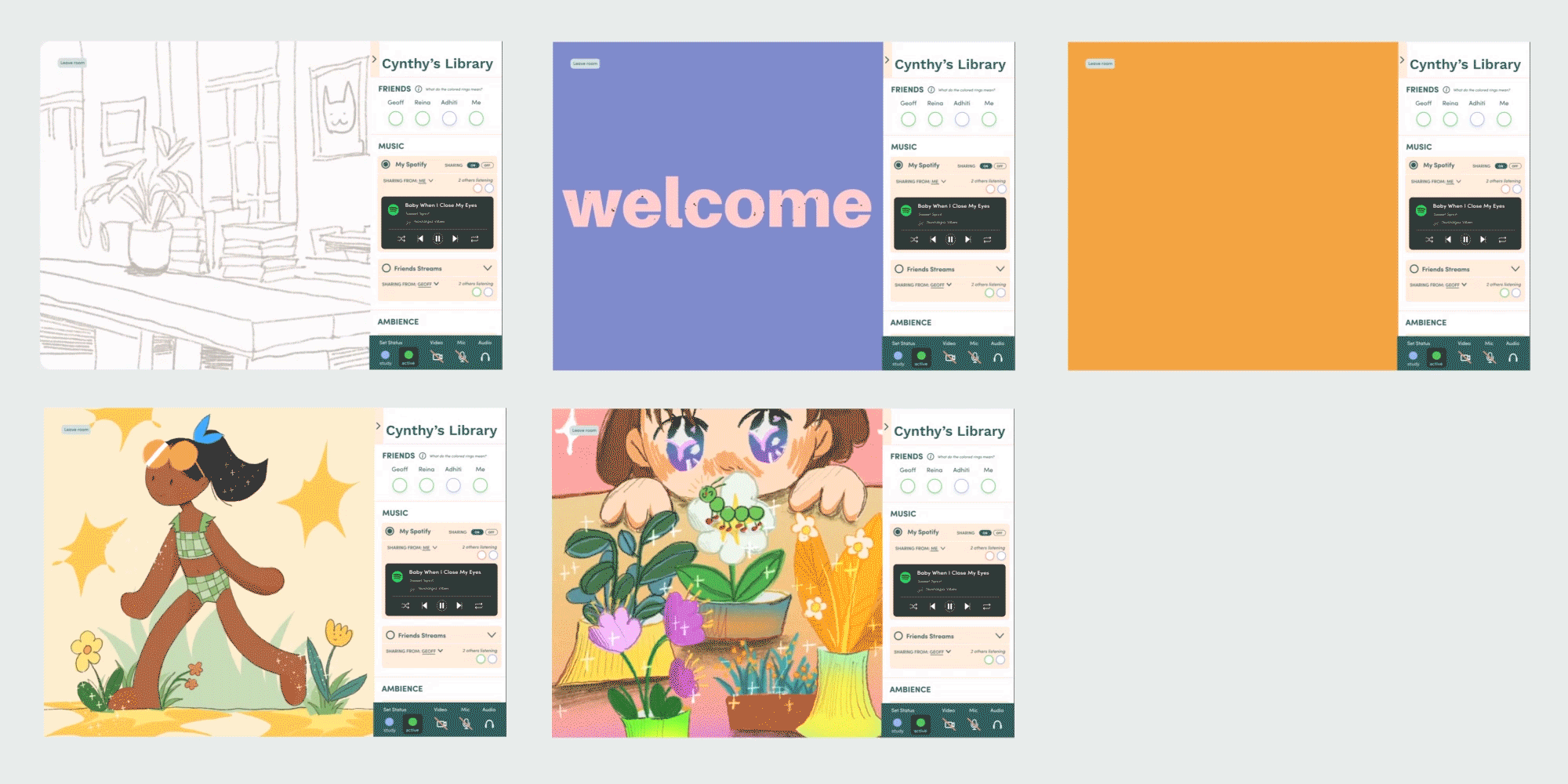 ---
Reflection ︎


Internet Cafe was one of the first projects where my team and I were able to run wild with our imaginations and ideas. From start to finish, we discovered our own research interests and decided on our own problem space and solution. Here are some of my insights:


1. It's never too late to revisit the project!


I revisited the project one and a half years after creating our original prototype for a persuasive design class. I saw a lot of potential with our project and wanted to do more with it, leading to a redesign of the UI. In my conversations with others, I always talked about replacing the stock photos of cafes and libraries with animated wallpapers of my own, which I finally went back and did!


2. Ground yourself in theory (the how & the why)


It's common sense that the pandemic and isolation has affected student mental health and motivation. But why is this the case? The most valuable stage of our research was understanding what students were missing in their interactions and grounding our prototype with proven theories and research on social bonding.