GigPrep


How might we help female freelancers to communicate & defend their value to potential clients?

GigPrep is a proposal writing app that empowers online freelancers to negotiate and set higher rates.

Team
1 research lead and 1 programmer / researcher

My Role
I was a user researcher & designer who did: User Research, User Testing, Interviews, Prototyping, Visual Design, Branding & Illustration, Data Visualization, Writing

Tools
Figma, Adobe CC, LottieFiles

---
Problem ︎

Recently, there's been a big boom in online freelancing and the gig economy. However, online female freelancers are still asking for less -- earning 13% lower pay rates on average than men, even when accounting for job category, work experience, and education.

---
User Research ︎

Although online freelancing holds much promise, the large disparities in pay for women still exist online. In the United States alone, women asked for only 74% of what men ask for in hourly bill rate.

In our survey of 99 freelancers from Upwork, a popular freelancing platform, more female freelancers indicated lower pay rates, while also indicating that their current pay rate was lower than their expected pay rate, moreso than male freelancers.

Women know that they are earning less than they are worth. Why is it then, that women still ask for less in the online gig economy?

In the same survey, we also asked about rate-setting approaches and pricing strategies. We discovered that there was no significant difference in pricing strategies utilized by each gender that explained the pay gap, although there were a few noticeable trends for most effective pricing strategies.

We then conducted 19 participatory design workshops with novice female freelancers from 14 countries. In these workshops, we spoke with freelancers on breaking into the freelance sphere in their area of work, their relationships with clients, and their approaches to negotiation. From these conversations, we came to understand the three main setbacks for female freelancers in rate-setting.


1. Competition

Freelancers feel pitted against others, who undercut wages to win over the clients. Because of this, freelancers feel as if they should undersell themselves to get the approval of the client.


2. Likeability Bias

Female freelancers gave instances of experiencing likeability bias in subtle ways. They are more afraid of asking for negotiations or voicing concerns because they don't want to seem too pushy or bossy.


3. Credibility


Novice freelancers have a hard time proving their credibility to new clients, who are more reluctant to hire new people. Freelancers jump through hoops, providing free advice and doing design challenges to prove their credibility.
---
Ideation ︎

When ideating, our team came up with a wide plethora of ideas tackling different stages of the negotiation process. However, we thought it would be most valuable to focus on the proposal writing stage, where freelancers will be making first impressions with their clients and negotiating contracts and offers. The following are example pages of our initial parallel prototypes.

---
Solution ︎

We introduce GigPrep, a proposal writing mobile app that empowers online freelancers to negotiate and set higher rates!


1. Reframe your Mindset

GigPrep positively primes freelancers to feel more confident in their skillset, and to actually feel like the expert. We provide various advice on negotiation and proposal writing and prepare users to respond to clients with their best foot forward.

2. Build a Community of Freelancers

GigPrep strives to build a community rather than pitting freelancers against each other. We know that not everyone starts out knowing how to write the perfect proposal. Our user can see proposal samples from freelancers working on similar projects and slowly learn how to voice their own unique skills and capabilities.

3. Enjoy Personalized Advice & Suggestions with AI/ML Capabilities

GigPrep makes use of existing databases, such as recommending appropriate rates to set a strong anchor for their initial offer. When putting together their final proposal, GigPrep will automatically proofread spelling and grammar and suggest wording changes based on best practices, helping freelancers to write coherent, concise, and confident proposals!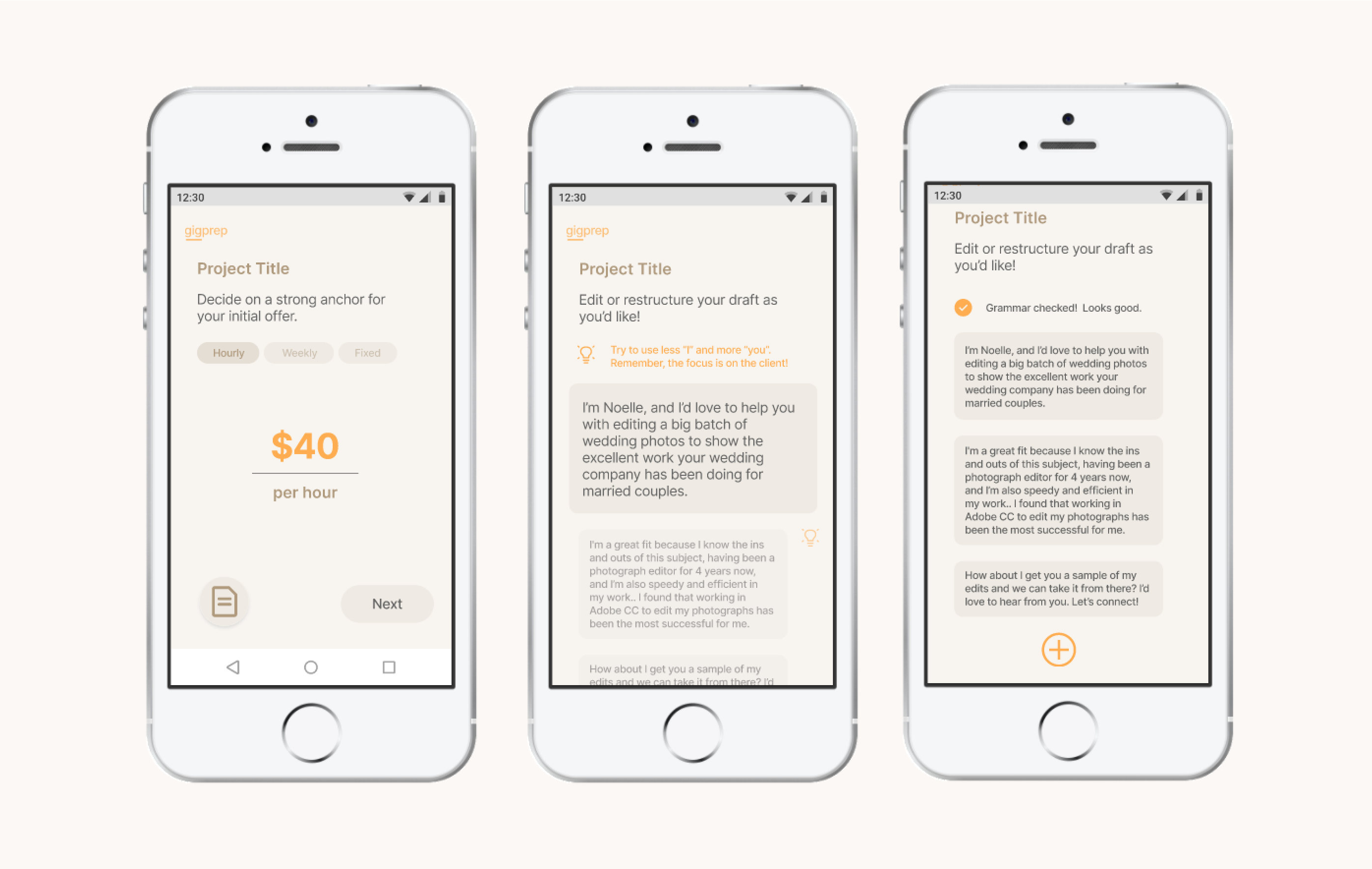 ---
---
Style Guide ︎

I created a soothing visual style, as well as accompanying animations, using light coffee tones and pops of orange.
---
A special thank you to my wonderful team and collaborators from the summer and the fall, especially my research lead Eureka Foong and my partner Julia Shuieh!