Collabo


How might we support collaborative learning in remote, hybrid, and in-person classroom environments?

Collabo is a virtual learning tool that utilizes keywords and vocabulary detection to guide collaborative activities for middle school math students.

Team
1 product manager, 1 programmer, & 1 other designer

My Role
I was a user researcher & designer who did: User Research, User Testing, Interviews, Prototyping, Visual Design, Branding & Illustration

Tools
Figma, Miro, Procreate


---
Problem ︎


Especially during the COVID-19 pandemic, teachers are struggling to implement collaborative learning in their classrooms. The latest technology and conferencing platforms, such as Google Meets and Zoom, fail to meet the teachers' needs of monitoring and guiding collaborative learning.


---
User Research ︎
After taking a deep dive into the ecosystem of collaborative learning environments by interviewing teachers and reviewing literature on recognizing good & bad collaborative behaviors, we drafted a journey map of the teacher. Where exactly is the teacher struggling with remote collaborative learning?

We learned that teachers struggled the most with monitoring many student groups at once in an online space. Previously, they used their eyes and ears to walk around and check in on each student. But now, when class is online, they struggle to use their intuition and sense to detect when and where there is a problem with collaboration.



"It's hard for me to monitor what each group is doing, especially on technology. If I could keep track of the students and keep them working on a common goal, that would be perfect."

- middle school math teacher from Wisconsin


"In a fully online classroom, I can't tell when students are productive or not. This leads to students complaining when their partner isn't being productive, but they'll only wait until the end of class to let me know!"

- middle school math teacher from Texas


From our competitive analysis, we also realized that although there are many tools out there, almost none of them were designed specifically for teacher-student collaboration. They just happen to be used for collaborative activities.

So what is the best way for teachers to
sense
when students are collaborating well or poorly? In our conversations with teachers, many of them said that they relied on
vocabulary and keyword usage
to understand student effort and understanding of the subject. If they can't see how students are working together online, their next best method is to overhear conversations and gauge their fluency and teamwork.
---
Ideation & Sketches ︎

How might we help teachers sense and understand student fluency of the subject and collaboration?

We brainstormed many different ideas around monitoring, detecting, and intervening in collaboration, but the idea that sparked the most enthusiasm for teachers was being able to visualize how students use vocabulary keywords in their conversations and collaborative activities.

---
Solution ︎

Our design intervention, "Collabo" is a dashboard that utilizes keyword detection and data collection to help teachers facilitate classroom collaborative activities.



1. Onboarding & Set-up

When teachers first set up an account, they are guided through how Collabo works and prompted to set up classrooms, groups, and keywords.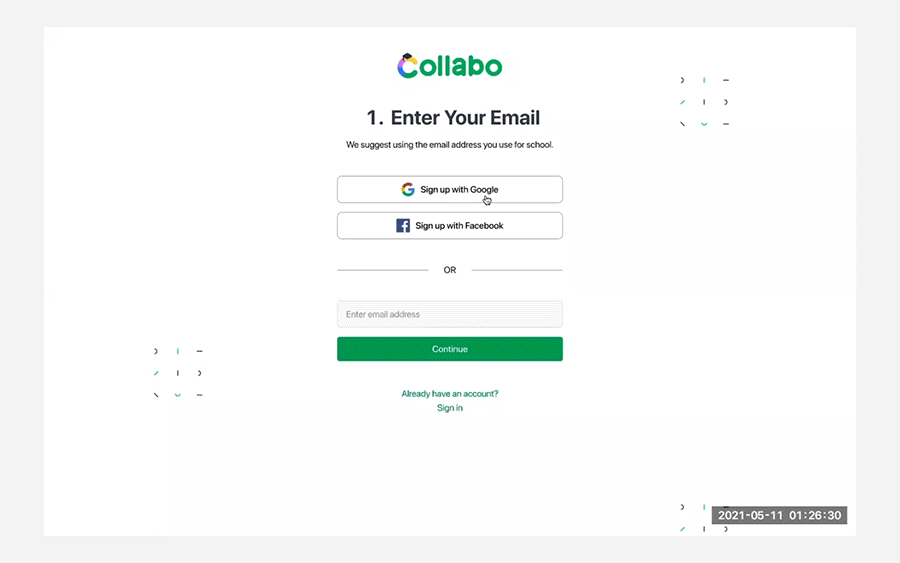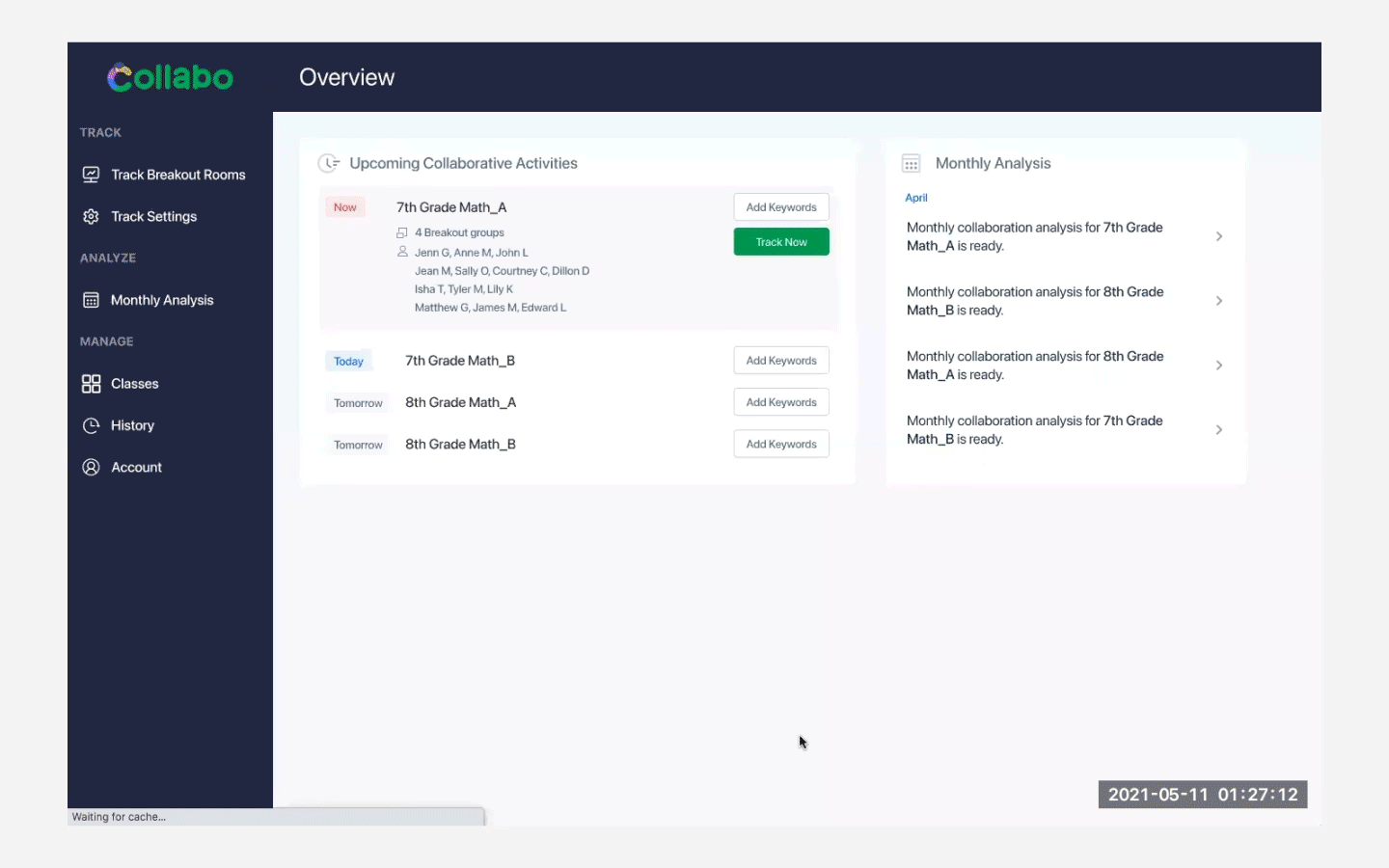 2. Participation Graphs

Teachers gain insight into student conversations and activity through keyword detection. They can easily communicate with different groups and easily hop from room to room. The can also utilize a "listen-in" feature that lets students know that teachers are checking in on their conversations.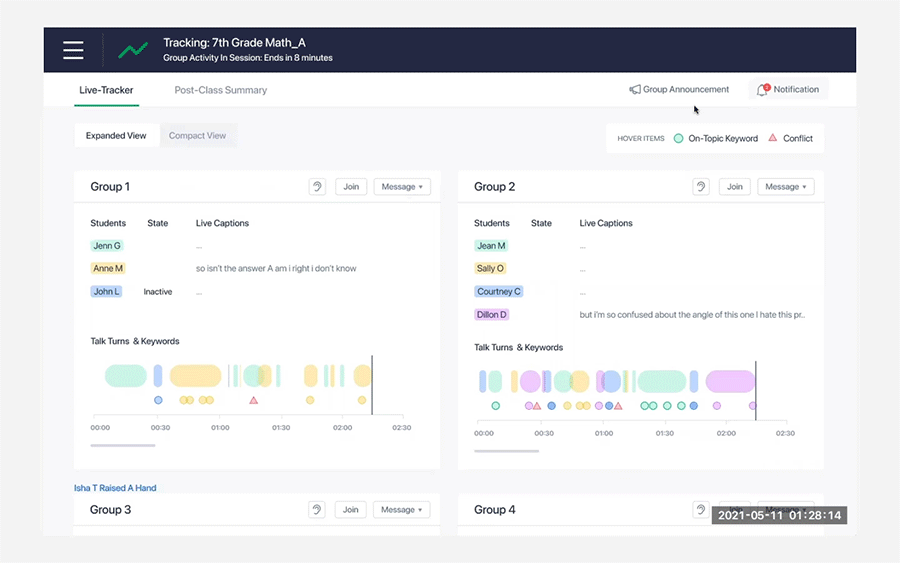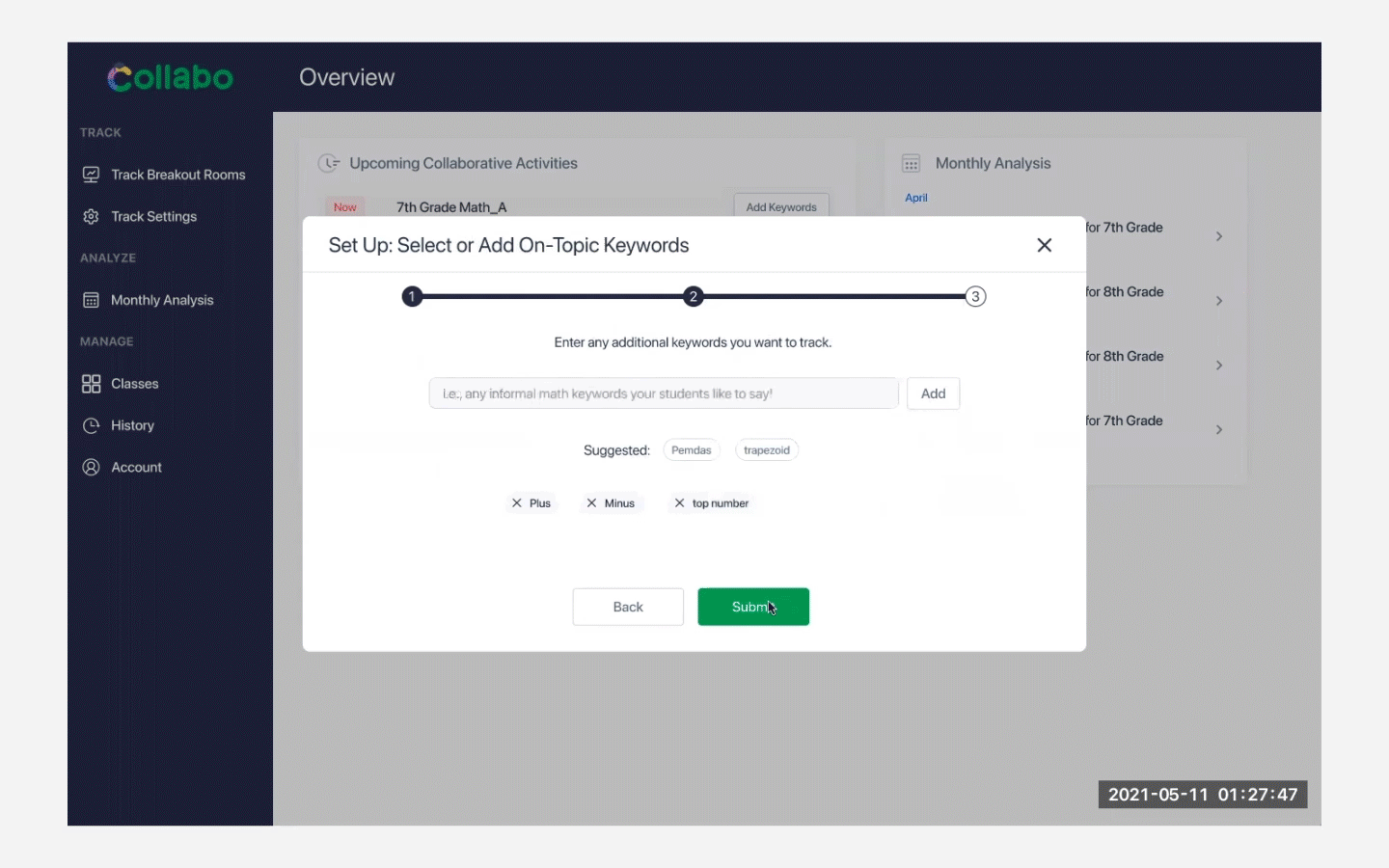 3. Post-Class Summary

Teachers get a sense of student activity and frequency of keyword usage by looking at individual and group summaries after a collaborative session. They gain new insights that help them polish their future lesson plans.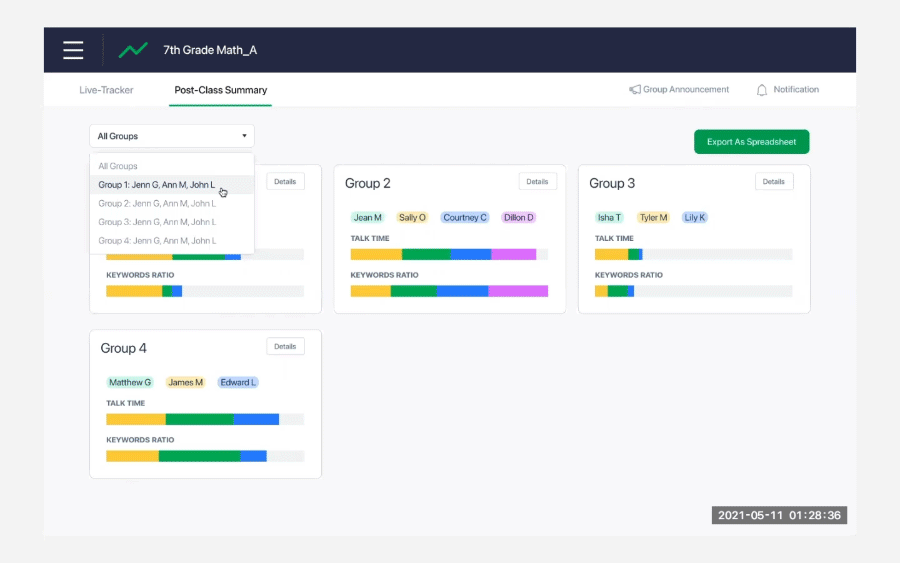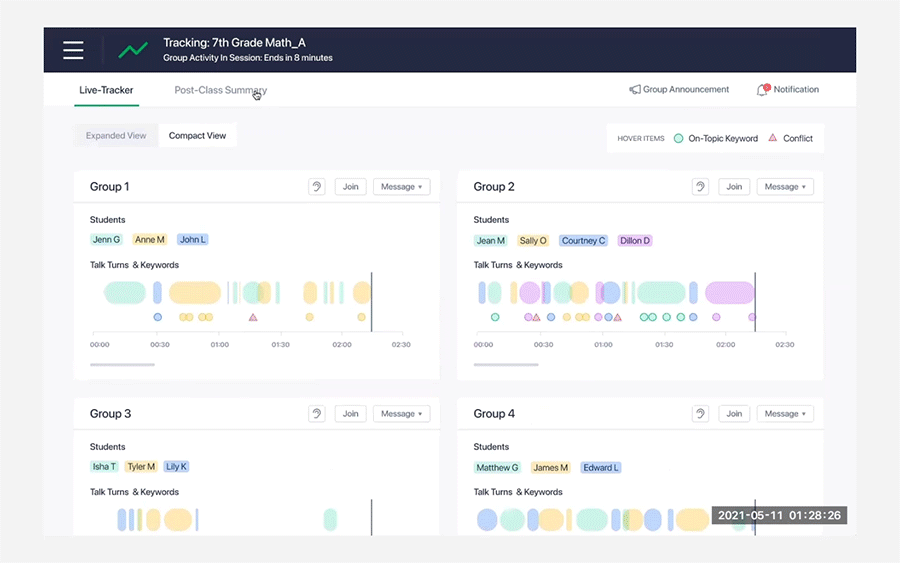 ---
---
Style Guide ︎

Originally based off of GoogleMeets, a popular conferencing platform used by teachers, I created a modern yet colorful visual style for Collabo, along with some fun illustrations of teachers and students!
---
Reflection

This semester-long capstone project was challenging yet rewarding. I learned a lot in the process about teamwork and design. Here are some of my insights:


1. Contextualize our prototype 1, 5, & 10 years from now

Classrooms are in a state of incredible precariousness. By the time our prototype is built, will teachers still want it? We envisioned our prototype to work in the context of virtual, in-person, and hybrid contexts.


2. Pause and take a step back! Are there any hesitancies that went unaddressed?

When creating our prototype, we stumbled across difficult considerations and conversations around student and teacher privacy, the limitation of equipment and funding for teachers, and nonintrusive voice visualizations and data collection. We wanted to take into account these considerations in our design and took additional steps and pauses in our process to talk with our users and clients.

A special thank you to our clients, Lu Lawrence and Vanessa Echeverria!